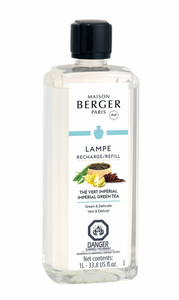 Imperial Green Tea - 1L
The Imperial Green Tea Lamp Refill is the exclusive fragrance of the Muse collection, created for Jonathan Adler. With green tea being her favorite drink, this fragrance has been developed mainly around tea leaves with a fresh and aromatic trail supported by the powerful green notes of galbanum. To give relief to the composition, the lemon zest brings its sparkling side and the cut grass all its naturalness. As for sandalwood and modern musk, they bring a warm dimension to the whole.
All in delicacy and modernity, this interior fragrance pushes back the walls and transports you in turn to China, Korea, and Japan to discover Asian rituals. This Imperial Green Tea Lamp Refill is ideal for a light scented atmosphere while being distinguished.
For use with the Maison Berger lamp
1L fragrance refill
Maison Berger Fragrances are FINAL SALE