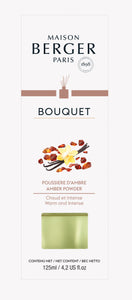 Cube Reed Diffuser - Amber Powder
This elegant scented bouquet will fit easily into your interior. Its cube shape, its silver-coloured ring and its black engineered polymer twigs will perfume the room with our Amber Powder fragrance for many weeks.
Its spice scents boost the elegance of rose and then the voluptuous beauty of ambergris is highlighted by sandalwood and patchouli. A veil of white musk then envelops a base of balm and vanilla.
Diffusion time, roughly 4 weeks. Includes decorative glass bottle, 125ml of fragrance, and 8 polymer reeds