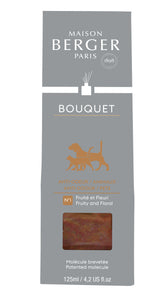 Cube Reed Diffuser - Anti Odour Pet
This unique scented bouquet neutralizes the unpleasant smells of our four-legged friends thanks to its patented molecule. Its pretty champagne-colored frosted glass cube is topped with a silver ring and bouquet of black twigs.
Its patented molecule combines wonderfully with the new floral and zesty fragrance. A modern and joyful fragrance which opens with tangy and crisp notes. An elegant floral heart that fades into musk textured with vanilla-scented wood.
Diffusion time, roughly 4 weeks. Includes decorative glass bottle, 125ml of fragrance, and 8 polymer reeds