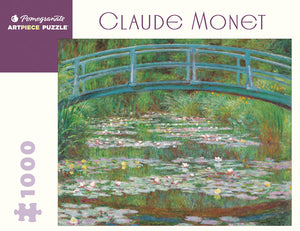 Claude Monet (1000 pcs)
In the last decades of Monet's life, his prized water garden and the footbridge he built over it became his most important subject. The reflective surface of the pond unified his canvas. The sky has already disappeared from this painting; the lush foliage rises all the way to the horizon and space is flattened by the decorative arch of the bridge. Floating lily pads and mirrored reflections assume equal stature, blurring distinctions between solid objects and transitory effects of light. As you piece together this puzzle, study Monet's water garden up close—just as he did.
Pomegranate, Art Piece Puzzle
Puzzle size: 25 x 20 in.
Contains: 1000 pieces