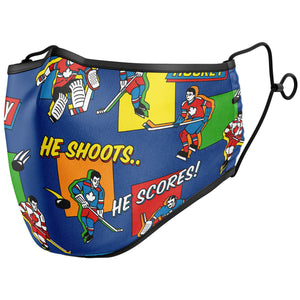 Cotton Hockey Face Mask
Main and Local presents the Hockey Face Mask!
Each mask comes with one (1) PM 2.5 carbon filter, inner pocket for filters, adjustable elastics that go behind ears, and a wired adjustable nose bridge. This is a 3 layered 100% poplin cotton mask that is washable and reusable.

FINAL SALE ON ALL PPE 
Disclaimer: The mask should not be used (1) in any surgical setting or where significant exposure to liquid, bodily, or other hazardous fluids, may be expected; (2) in a clinical setting where the infection risk level through inhalation exposure is high; or (3) in the presence of a high intensity heat source or flammable gas.