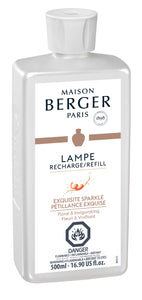 Exquisite Sparkle - 500ml
It has the impetuousness of a sparkling wine, the elegance of a festive decoration, the savours of a well-filled table. It is the promise of a festive Christmas, a happy end to the year. It all begins with top citrus notes and the sparkle of grapefruit zest. Then, the floral heart of rose and lily-of-the-valley blossoms, subtly stirred by the sweetness of patchouli. Lastly, the finale: the effervescence of an exquisite nectar, the passion of a mellow musk.
The sparkle is created by the contrast between the zesty notes and the sweet notes, but it is patchouli which gives it this festive heart. A plant originating from Indonesia, patchouli was introduced into perfumes in the middle of the 19th century. It suffered for a long time from the nefarious reputation of the fake social elite, who particularly loved it for its mellowness. It was much later, in the 1960s/1970s, that patchouli, acclaimed by the hippies, was raised to the status of an olfactory icon and has since symbolised exoticism, liberty and sensuality!
For use with the Maison Berger Lampe
500mL fragrance refill
Maison Berger Fragrances are FINAL SALE